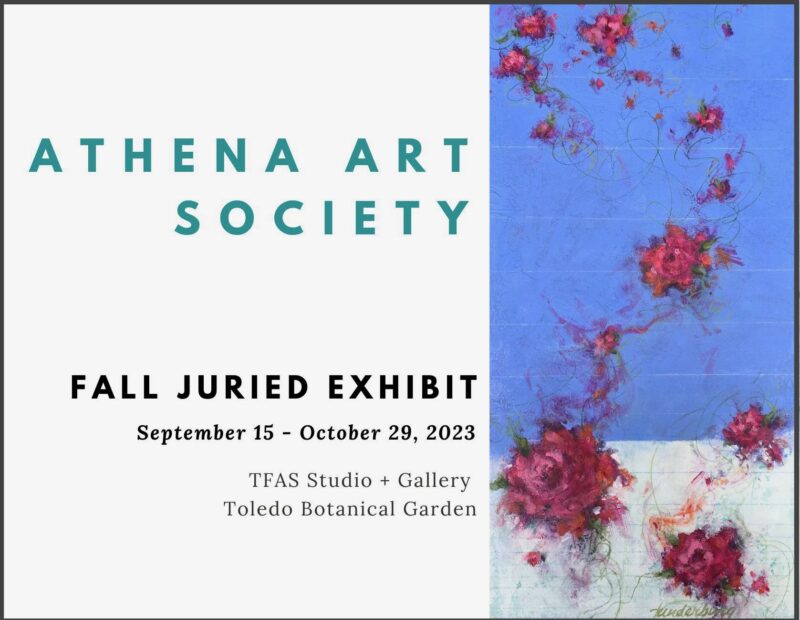 The Athena Art Society will host their Fall Juried Exhibit at the TFAS Studio + Gallery in the Toledo Botanical Gardens Artist Village. TFAS (the Toledo Federation of Artist Societies) and the Athena Art Society are excited that this Athena Fall Juried Exhibit represents their long partnership of over 100 years. Thirty-six artworks from twenty-six Toledo area women artists are on display. 
The Athena Art Society, founded in 1903 by Nina Stevens, wife of George Stevens, TMA Director, was one of the founding organizational members of the Toledo Federation of Artist Societies. Both organizations have now been in existence for more than 100 years, but TFAS last year acquired a permanent space in the Toledo Botanical Gardens Artist Village. With this building TFAS aims to exhibit its permanent collection as well as the work of local artists and member organizations.
The juror is Pi Benio. After a long teaching career at Adrian College she helped to found the Adrian Center for the Arts in 2015. Her work has been shown regionally, including a one-person exhibit at the Detroit Institute of Art, in Chicago, New York City, and Japan.
TFAS was begun in 1917 to build a collaboration between area arts organizations and provide professional opportunities for artists. TFAS maintains a permanent collection which includes the artwork of a number of past members of the Athena Art Society, a small sampling of which will be on display during the exhibition. The Athena Art Society Fall Juried Exhibit will be open Fridays, Saturdays and Sundays from 1-4pm from Sept. 15 – October 29.